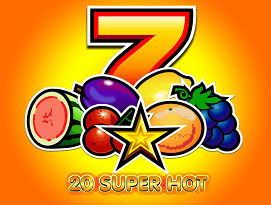 The name of this slot can really sell since it also rhymes quite well with the first impression once you get to open the game. 20 Super Hot is well set up with lovely fruit colours as well as graphics and background music. It is a fruit-themed slot with cherries, lemons, oranges and melons well displayed. These keep you glued once you begin to play, and if you haven't really given it a try, you should definitely have it in your bucket list.
The great yet popular developers known as EGT had this great idea to keep players yearning for more once they begin to play. They launched this game in September 2015. Once you launch it, you will see a lot of fruits for starters, they will make you want to know what they really entail.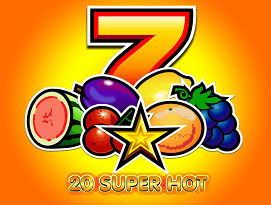 Playing 20 Super Hot Slot Machine
Ever had a really nice experience at any given point in life? One does feel hot at that point in time, and that's because of the nice feeling. Now, imagine a slot that makes you feel that way as soon as you begin to play, totally worth it, right?
20 Super Hot slot machine is a 5 reel and 20 pay line slot game that believe it or not, gives every player prizes and bonuses from the very first spin. This is unlike most slots, but this one is simply awesome.
Credit bets are offered in this game, and one can actually enjoy play from values ranging from 0.01.
How to Win 20 Super Hot Game
There are different symbols represented by different icons in this EGT slot. Some of them include melon, cherries, grapes, oranges, lemons and plums among others. Each of these symbols has a role to play in making the game enjoyable. Let us have a look:
Grapes – These are at the top most, and they pay up to 8,000 coins, they are the fruits to look out for.
Oranges, Lemons and Cherries – These fruits can pay up to a total of 4,000 coins.
Plums and Melons – These ones are known to up to 2,000 coins, whether it is the roasted ones or not.
Having this in mind, one has a rough idea of what to look out for when intending to make those wins. As if that isn't enough, there are two symbols to look out for, and they are known as the bonus symbols. They are represented by the scattered star and the lucky red 7. Once you get to see these two, chances of landing great prizes are quite high.
This slot has got a 20 Super Hot free gamble feature as well. With this, one gets to choose a colour between black or red from two cards, and this may multiply your wins handsomely.
A game without bonuses is boring. Get to enjoy all the free 20 Super Hot slot machine bonuses that come with the gameplay. Get to enjoy all of these and so much more by giving the game a try. One can even try slot machine 20 Super Hot games for free before placing a bet, which I think is really cool.