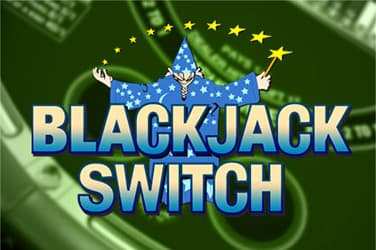 Blackjack, being the most highly demanded online casino table game among punters, is widely accessible in both free and real money versions online. Our website allows free demo play of Blackjack Switch, one of the set's most sought-after variations, where fun credits are provided to use for stake placement instead of actual cash. The demo version comes in handy when trying to learn how to engage Blackjack Switch without risking real money before heading on to some of our listed casinos to play for actual cash winnings.
Blackjack Switch Rules
Over the centuries, numerous variations of the game have cropped up with some changes applied to the rules of play to make gameplay more exciting. Among the modifications that have managed to snub the attention of punters in the hundreds of thousands is Blackjack Switch. This version of the table game is among the latest addition to online and offline casino portfolios having been introduced in 2009 by Geoff Hall. This man was recognized as among the best players of blackjack globally, which made it even easier for his creation to be adopted by both online gaming software developers and gambling destinations.
Like most other versions of this table game, Blackjack Switch features the same gameplay procedure as that of the classic option. All punters have to do is strive to acquire a higher card value than that of the dealer which is close to or equal to twenty-one without surpassing this limit. Ending up with a card value of twenty-two or higher results in a bust, which is a loss.
The element that adds some thrill to Blackjack Switch is the inclusion of a rule that allows punters to exchange cards between two hands, thus the name of the variation. At the beginning of each round, punters are required to place stakes on two hands instead of the usual one; this is essentially a cheating strategy that leaves gamblers with a higher chance of winning than most other variations of the game. Due to this element, the house edge drops to 0.58%, which is among the lowest, leaving gamblers with an impressive Return to Player rate of 99.42%.
However, since the switching rule stands in favour of gamblers, the house applies a trade where some rules are made better for the house over the player. For instance, gamblers must place wagers on two hands instead of one. Additionally, the dealer does not bust if they end up with a card value of twenty-two and instead beats the player. The result can also be a push if the punter ends up with Blackjack, and their stakes are given back. Other rules that apply to gameplay include:
Six to eight card decks are used, each carrying fifty-two cards
The stakes placed on both hands must be equal
The dealer and punter are each dealt two cards. One of those given to the dealer is usually face up
The dealer can hit on soft seventeen. However, in some casinos, especially those that operate in Canada, the croupier is expected to stand on seventeen
If the player switches cards to form 21, the hand is counted as a value of twenty-one
Gamblers are allowed to double on any of the two cards that are dealt
Resplitting up to four hands is acceptable
Blackjack wins pay even money, which is one to one.
The rules of play remain the same in both free and real money versions, and the only difference comes in the fact that the latter generates wins in actual cash rather than just fun credits.
Blackjack Switch and Dealer Play
In Blackjack Switch, most of the rules have been changed in favor of the gambler, which allows it to carry such a low house edge. However, some of the dealer playing rules are also adapted to make the odds a little bit favourable for the house as well, and they include:
Winning or pushing in twenty-two
Usually, any card value higher than twenty-one is considered a bust. However, in Blackjack Switch, a card value of twenty-two by the dealer results in a win or push over the gambler.
If the croupier's up-facing card is an Ace or ten, they are allowed to peek the down-facing card to see if they end up with Blackjack. If they do, the gamer loses automatically, and the hand ends.
Blackjack Switch Strategy
When playing Blackjack Switch, some of the practices that punters can apply to improve their chances of winning include:
Place small bets for longer gameplay
Switch cards to form the highest value
Play for free for practice before investing money
Avoid using the surrender rule too often.
Final Comments
Blackjack Switch presents a high chance for gamblers to collect winnings by allowing a cheat strategy. This option can be explored on both mobile and desktop devices.