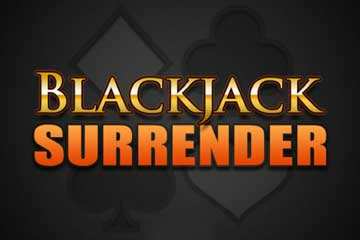 Before you bet real money, it only makes sense that you test out a demo version. You can play Blackjack Surrender for free here. You do not need to register, and there is certainly no requirement to provide your credit card details.
What is Surrender in Blackjack?
This blackjack variant applies most of the rules of the contemporary version. The main difference is that the gambler can surrender his card if he feels that he has no winning chance. And when he does, he will take back half of his bet, and the casino will take the other half.
A game like this is appealing if you want to manage your risk significantly. In this case, you are reducing your losses to 50%. But like any game variant, some rules need to change to ensure that the casino still has a house edge.
Blackjack Surrender Rules
As mentioned earlier, it plays by the common rules of the classic variant. You are betting against the cards of the house, and your goal is to have a higher number, which is the sum of your cards. Ultimately, what you want is to have a total of 21.
Here are some key points you need to remember:
It is played with six decks of cards. A typical blackjack uses four decks.
The house or dealer stands on soft 17, which is comprised of an ace and a six.
You can double on your first two cards
You can double on your split.
You can only split once. What this means is you have two deuces, and you split, and you got another deuce, you cannot split that set again.
Dealer gets the first two cards first, then the player.
Player can put a side bet or insurance if the dealer has an ace as a hole card.
Gambler will decide what to do with his card. He can split, double, hit or stand.
The gambler can only surrender before the dealer opens the second card.
As you can see, the gambling enthusiast has an advantage here. If the house has an ace, you have several options to risk your money. Should you decide to lose, you still get half of your bet.
Here are some terminologies that will help you play it better.
Hit – it means you want another card. You do this if the sum of your set is low. The succeeding cards will be added to the first two until you say "stand".
Stand – what this means is that you are satisfied with your hand.
Split – you can do this if your first two cards are the same. If you split, you will also double your bet. You will receive two more pieces to pair with the two sets.
Double – this means you are doubling your bet, and you will get an extra card. The sum of the three pieces will be your final score or number.
Odds and House Edge
The house edge in a game like this varies between 0.25% and 0.39%. Because different casinos have different rules, and they do not use the same number of decks, there is a high variation as far as your odds are concerned. It is safe to say that your odds of winning are also dependent on the type of hand where you stand, which ranges between 14.61% and 6.99%.
Side Bets of Blackjack Surrender
A side bet is allowed if the house has an ace in the hole. The side bet is always equal to half of your original wager, but it pays 2:1. If the dealer gets a blackjack, you win the side wager but lose the original one. If he doesn't, you might win the original wager, but you will lose the side bet.
Blackjack Surrender Strategy
If you are thinking about counting cards, it will take you years before you can master it, most especially so since this variant uses six decks. What we recommend is to stick to several principles that will improve your odds of winning, instead of beating your head on how you can beat the house all the time.
Following a set of betting rules will also prevent you from miscalculating or making emotional decisions.
Here are valuable tips that you have to keep in mind.
Always hit if your hand is between four and nine, regardless of the hole.
If you have a hard ten or eleven, double if the casino has 2 to 10 in the hole, but hit if he has 10 or A.
Always stand on 17+, no matter what. Do not split and do not double, even if there is an ace on the hole.
Conclusion
Surrender Blackjack is a good game. It reduces your risk, and it allows you to make more out of your money than losing an entire bet. However, your success still relies on your ability to make the right decisions and making sure that you have the discipline to follow the strategy we laid out above.