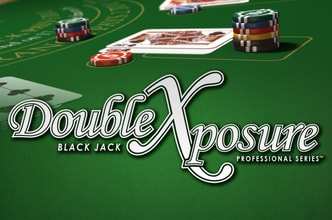 If you are looking for free live action, you can try our Double Down Blackjack online. It is free to play in the demo version, and you can bet in the same way you would with real money. Only this time, you do not drain your pocket if you make bad calls.
A Brief History
This blackjack variant is called so because the dealer receives two cards with the faces up. In the classic version, only one face is showing, and the other is face down.
The person credited for the invention of this game is Richard A. Epstein. According to known history, it first appeared at Vegas World. Today, you can find this is in many land-based and online casinos.
Double Exposure Blackjack Rules
Since the player has a significant advantage, there are several rules that were changed to make a casino maintain its house edge.
Payout on natural blackjack – the gambler will only get even money if his first two cards consist of 21, unlike the classic version where he will be played 3:2.
Tied hands – if you have the same hand with the dealer, you automatically lose. The only exception here is if the player has a natural blackjack. Even if the dealer has a natural blackjack, the player wins even money bet.
Elimination of other bets – although this is not standard, many Double Exposure tables restrict the player from splitting or doubling down.
No Insurance – in a typical table, the gambler can buy insurance if the face-up card is an ace. He can wager half of this original bet, and if the dealer gets a blackjack, the player wins that side bet. This wager does not apply here because both cards are face up.
Soft 17 –tables vary in this rule. Some impose a stand on soft 17, while some allow the dealer to hit.
Despite these changes, a gambling enthusiast still has a significant advantage.
As you can see, this variant does not give the player an element of surprise. In exchange, the winning amount is lesser than the classic one. This payout is fine, provided that the player is patient enough and knows how to make rational decisions when betting.
What you must really take into account is the soft 17 rule. It is this rule that will make you think carefully about whether you should hit or stand.