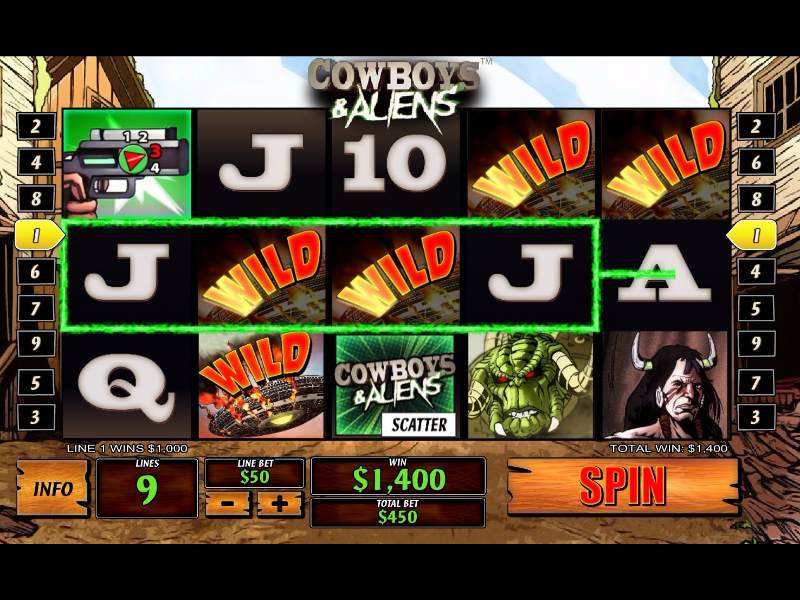 Lovers of excitement who prefer to play for free on machines will like the exciting Cowboys & Aliens slotsmade by IGT. Starting to play online without registering curious users will appreciate the innovative graphics solutions applied by the developer. The emulator shows an American town with wooden buildings and not asphalted streets. Against this background, black virtual drums are shown above which a light blue sky is depicted.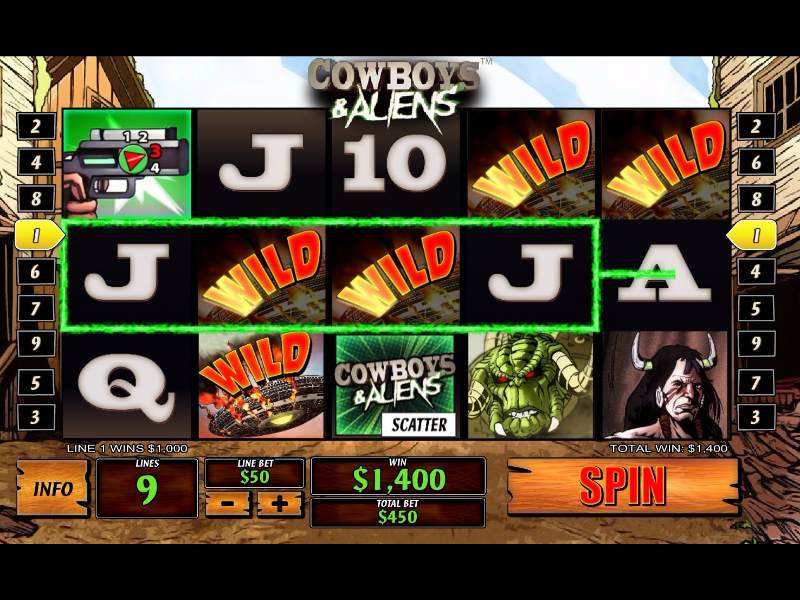 This is a video slot with five reels, on which is possible to play only on nine lines. They are active by default. The rate per line is in the range of twenty cents to five hundred euros. Therefore, it is allowed to play on the slot machine at a maximum amounting to four and a half thousand euros. Perhaps in other casinos the betting range will be different.
Video slot has several bonus rounds, special symbols, free launches and other exciting and beneficial features. The risky game for doubling is not exists.
How to play Cowboys and Aliens?
This one-armed bandit form IGT is easy to use for great winning. To twist the reels, player needs to press the Spin button. However, before activating the reels, it is required to bet. Plus and minus buttons in the Line Bet block are used to set the bet size for each line. Gambler can choose from a range of 0.01 to 100 credits. The Total Bet box indicates the spin bet size, it can reach a size of 900 credits when setting the maximum bet size. The player's win will be shown in the win box.
If the player wants, he can start the automatic rotation mode of the reels. Pressing the Auto play button, the coils will start rotating independently at the rate that the player made before pressing it. To stop automatic starts, it is advised to press the Stop button. To view prizes and other gambling rules use the Info button.
Special characters of the game slot
On the reels of this online slot each player can see special symbols, each of which performs a specific function:
Alien Weapon Bonus – activates the game Alien Weapon in which gambler is free to make a specific number of shots. The remaining cartridges will be displayed on a special scoreboard – counter.
Alien Attack Bonus – activates the bonus game Alien Attack, during which player will be attacked by aliens, and has to fight back.
Firstly, the gambler has to pick one of three characters:
Zeke is armed with a gun with six bullets, which very accurately hit the target.
Verity owns a whip that hits twenty times, but often misses.
The Indian produces twelve arrows, and his bow is of medium accuracy.
Each successful shot at the enemy brings a cash payment, multiplier or additional ammunition. The game ends when all attempts are used or all aliens are destroyed. Become a brave hero, a real savior of the planet Earth – launch the online Cowboys & Aliens slots, bet and win.
Conclusion
Cowboys & Aliens – this is a cool video slot, which is sure to satisfy not only fans of comic books or science fiction films. It offers an excellent selection of gaming options, large payout ratios, stylish graphics and other benefits. Pay attention to the principle of forming combinations. Be sure to wait for bonus games, as they are really interesting.