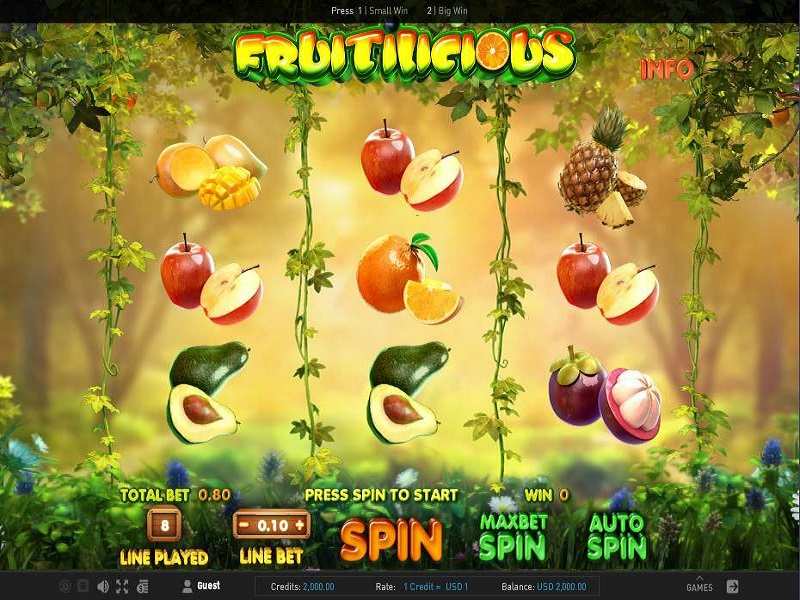 The word Fruitilicious is a relatively new term in English language and it means something which is colorful, bold, bright, and fruity. Though it is formed by combining 2 different words, namely, 'fruit' and 'delicious', it does not always refer to fruits. In this case, it refers to one of the most popular slot machine games from GamePlay Interactive. You can play free Fruitilicious casino slot machine without making a deposit. This means that you can play Fruitilicious Online either for free or for real money. Many players also love this game as no download is required. It can be launched directly from the browser. For those who love gambling at an online casino, Gameplay Interactive needs no introduction. This UK based company is one of the best-known names in the industry when it comes to developing gaming software.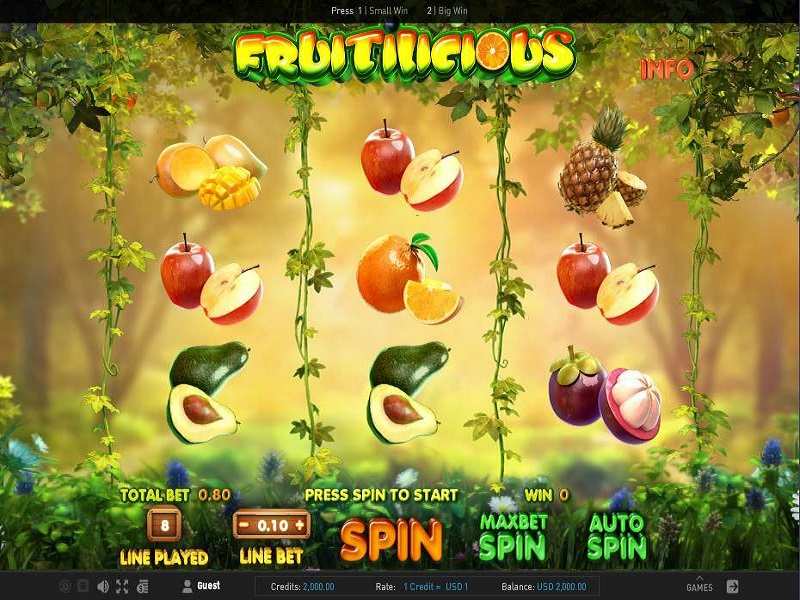 Some Basic Information about the Game
| | |
| --- | --- |
| Slot Type – 3D Video Slot | Software Provider – Gameplay Interactive |
| Reels – 3 | Pay lines – 8 |
| Min Number of Coins Per Line – 1 | Max Number of Coins Per Line – 1 |
| Min Coin Size – 0.02 | Max Coin Size – 2.3 |
| Number of Rows – 3 | Jackpot – Yes, 1000 coins |
| Bonus Round -No | Multiplier – No |
| Wild Symbol – No | Scatter Symbol – No |
| AutoPlay Option – Yes | Progressive – No |
| Double (Gamble) Game – No | Free Spins – No |
Useful Tips for Playing the Game
You have 3 reels and 8 pay lines in which you can play this game. For each line, you can use just one coin and that is fixed which is usual for numerous video slots from Gameplay Interactive. Prizes are awarded on a line if the symbols appear from left to right.
Before you begin to play, it is best to be aware of all the details. This can be done through the pay table. For this, you need to click on the 'INFO' button which can be seen at the top right corner of the reels.
At the bottom of the screen, you will find the Return to the Game button. Clicking on this will take you back to the main game once you have understood all the important details. The control panel with various buttons is at the bottom of the screen.
At the center is the orange colored SPIN button. Clicking on this will make it green and the reels will start spinning. You can also use the AutoPlay option to keep on playing continuously without any interruption.
Just the Normal Fruit Symbols – Nothing Special
Fruitilicious Slots does not have any special symbol which is normally associated with many online casino games. It appears as if the software provider has done it's very best to make the game uncomplicated. As a result, you will not find any wild or scatter symbols, free spins, multipliers, progressive jackpots, double gamble games or bonus rounds.
Now if you think this lack of frills take away the fun and make the game very unattractive, you may not be entirely wrong if you are an experienced player. However, let us look at the bright side of things. You can focus on the most optimum methods to find a winning combination as you do not have to deal with too many symbols. This is all the more relevant if you are a novice. It won`t take you long to understand the game.
The Fruit Icons that Help You Win
The moment you step into the ripe and juicy world of Fruitilicious Online, you will be taken to the Garden of Eden. Tasty looking fruits will be on display which you can feast upon with your eyes of course. You can see grapes hanging from vines, lovely pineapples, passion fruits, oranges, pomegranates and something that keeps the doctor away – apples.
You need to match at least 3 similar single fruit icons to win a prize.
Here Apple is the most humble of all fruits as it gives the lowest payout. The prize is just 10 for 3 matching apples.
Pomegranate in this slot is the king of fruits or queen if you like. The payout is 1000 for 3 of these. This is the Jackpot prize.
There is one more icon apart from the above-mentioned fruits and that is a fruit bunch which is also a symbol by itself.
What makes this fruit collection symbol unique is that even if only 1 or 2 appears, it will offer a prize, small though it may be. But the good thing is that they add up. So there is strength in numbers.
However, the payout is 200 for 3 such icons of fruit collection.
You Can Yield to Temptations
With fruits being the theme of this slot machine, it is the right time to enjoy the ripe and juicy offerings. Though the absence of special symbols like wilds, free spins or scatters may make it less attractive to experienced players, beginners will love this game. The soothing music and the visual delights will also relax you. It is still worth a try as risk is comparatively less and you may still win some real money.